The Governing Body
We are committed to finding skilled and diverse governors through an independent organisation, Governors For Schools. The quality mark below should be seen as an assurance that the board values diverse governance and is doing all it can to make governance as robust as possible.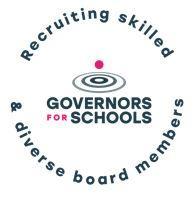 School governors are people who want to make a positive contribution to children's education.
Governors are one of the largest volunteer forces in the country and have an important part to play in raising school standards.
The role of the governing board is absolutely key to the effectiveness of a school.
What do governors do?
School governors provide strategic leadership and accountability in schools. Governors appoint the head teacher and deputy headteacher. It is governors who hold the main responsibility for finance in schools, and it is governors who work with the headteacher to make the tough decisions about balancing resources.
Each individual governor is a member of a governing board, which is established in law as a corporate body. Individual governors may not act independently of the rest of the governing board; decisions are the joint responsibility of the governing board.
The role of the governing board is a strategic one, its key functions are to:
set the aims and objectives for the school
set the policies for achieving those aims and objectives
set the targets for achieving those aims and objectives
monitor and evaluate the progress the school is making towards achievement of its aims and objectives
be a source of challenge and support to the headteacher (a critical friend)
The Full Governing Body meets at least ten times a year and meetings include all aspects of school governance.

Meet The Governors of Cheriton Primary School
Mrs E Brett - Chair of Governors
Co-opted Governor (appointed by Governors)
Term of office from 26 Jan 2023 to 25 Jan 2027
Development & Training Governor and Safer Recruitment Governor
Member of the Learning Committee
Mr A Goldsworthy
Headteacher Governor
Term of office from 1 Sep 2015 to present
Member of Resources and Learning Committees
Rev C Durrant
Co-opted Governor
Term of office from 15 Sep 2021 to 14 Sep 2025
Member of Resources Committee
Ms S Henderson
Co-opted Governor (appointed by Governors)
Term of office from 24 Nov 2022 to 23 Nov 2026
Miss E Moorhouse
Parent Governor
Term of office from 24 Jan 2020 to 23 Jan 2024
Member of Learning Committee

Mr N Parmley
Co-opted Governor (appointed by Governors)
Term of office from 30 Sep 2020 to 30 Sep 2024
Chair of Resources Committee
Governor Forum Representative
Mrs J Reeves
Parent Governor
Term of office from 24 Nov 2022 to 23 Nov 2026
Mrs N Pitts
Co-opted Governor (appointed by Governors)
Term of office from 15 May 2023 to 14 May 2027
Mrs C O'Brien
Parent Governor
Term of Office from 13 Jul 2023 to 12 July 2027
Mr T Legge
Co-opted Governor
Term of Office from 7 Sept 2023 to 6 Sept 2027

Mrs R Hatchley
Clerk to Governors
Term of Office commenced 21 June 2022