Planned Absence From School
Authorised or unauthorised absences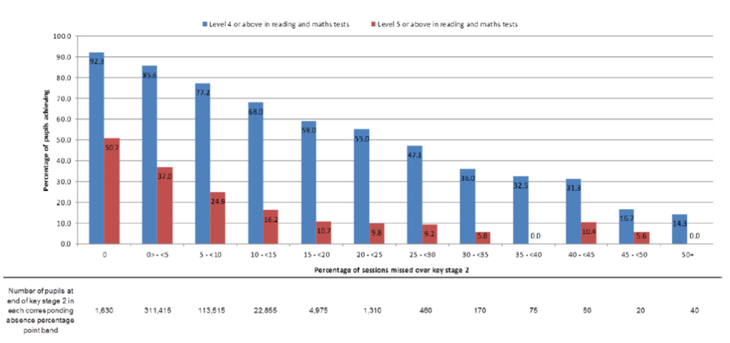 This graph illustrates how, as the percentage of sessions missed from school rises, the likelihood of them reaching age related expectations in their maths decreases. I'm sure similar data could be found for other subjects. Absence due to illness is unavoidable and last year many of us were hit with a seemingly endless barrage of germs and bugs which forced us to have time off. For children these are seen as authorised absences although they can have an impact on learning.
Should you decide to take your child out of school for one or more sessions (a session is counted as a morning or afternoon) then you should fill in a Request for Absence form which the headteacher then has to decide whether or not to authorise the absence. The headteacher can only consider authorising an absence if it is for an EXCEPTIONAL reason. Basically, could this absence have taken place at another time, i.e. in the school holidays or during the weekend? The eye-watering increase in airfares which happens the second the school holidays start is not viewed as an acceptable reason for headteachers to authorise an absence. If you requested 5 days off because your child is playing a pivotal role in a family wedding which is taking place in some far-flung and exotic location such as Wales, then this could be seen as exceptional and the may be able to authorise the absence for the day of the wedding and perhaps the day before and after for travelling. If you had requested 5 days off then only 3 days ( 6 sessions) could be recorded as authorised.
Here is the hard hitting bit!: In Hampshire, Penalty Notices are issued when a pupil has had 10 or more half-day sessions (equivalent to five school days) of unauthorised absence, in any 10 school week period; or one or more unauthorised absences during a public exam, assessment or test (where the dates have been published). Each Penalty Notice fine is £60 if paid within 21 days of the date of posting and £120 if paid after this but within 28 days of the date of posting. These penalty notices are issued to both parents if they are directly involved in allowing the absence to take place. If you pay the Penalty Notice and your child has further unauthorised absences additional legal action will be taken. For example, in the event that a Penalty Notice has previously been served to you due to unauthorised holiday, should your child have any future unauthorised leave this will result in further legal action for you, such as prosecution or an Education Supervision Order.
Persistent lateness can also adversely impact on a child's learning. School starts at 09.00 by which time we aim to have the children settled in class ready to begin the day. If a child arrives after 09.15 a late mark will be recorded in the register. Arrival at school after 09.30 will result in an unauthorised absence mark in the register and this session will be counted in the 10 session in 10 weeks "allowance". Further advice is available at the link below.
http://www3.hants.gov.uk/education/hias/learning-behaviour-attendance/attendance-guidance-for-parents.htm